---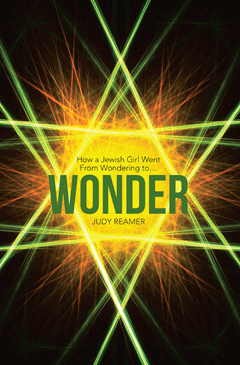 How a Jewish Girl Went From Wondering to...
WONDER
By Judy Reamer
$33.00/Hard Cover (plus $4.70 s/h)
$18.00/Paperback (plus $3.75 s/h)
Experience the humor, heartbreak, and elation of this riveting narrative about Judy Reamer, whose curious mind took her into surprising places and uncharted waters. A book, a trip to Las Vegas, and a worldwide entertainer were all instrumental in moving this independent Jewish Philadelphian beyond her self-centered world.
Wired to wonder, Judy ultimately found herself wired for wonders when her dramatically changing worldview led to repeated encounters with God's supernatural work.
Judy's story will take you through her escape from the heavy hand of the cults and the strong arm of the turbulent USSR, an unjust courtroom outcome, and her husband's untimely death. But most remarkable of all, you'll see what happened when this "wondering Jew" met the most famous man of all ages, born across the sea. Life was never the same. Nor was it boring. Oy!
"Wait till you read this story about my great friend Judy. Her writing style is remarkably simple, but her story is simply remarkable." —Pat Boone, singer, actor, author
"Judy's story has much to teach, and because of my Jewish background, it resonated profoundly. I love her, and you will too." —Sandy Feit, In Touch Magazine
---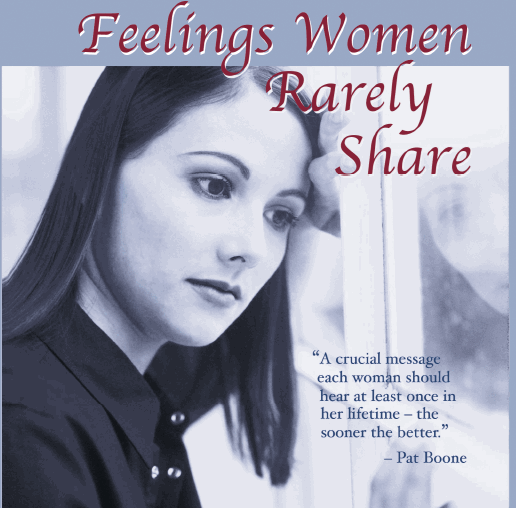 Feelings Women Rarely Share
By Judy Reamer
$10.00/book (plus $3.75 s/h)
This best selling book targets an issue not often addressed within the Christian arena. This is a subject every aged (and even age-ed ) woman, married or not, should be informed about at least once in her lifetime. It has been a silent factor in many lives. Covering feelings women rarely share, Judy confronts the issue of our sexuality, of immorality, looking at the journey of sexual temptation.
What do you do when you are drawn to someone you cannot have because he belongs to someone else or you belong to someone else?
We need to be prepared in this delicate and complex area. Even if you are certain you do not need to read this for yourself, you will have gained some information to help another…a friend, a daughter, a co-worker. This is also an excellent "pass along" book when you feel you are unable to adequately counsel someone who is struggling with a "moral" problem.
---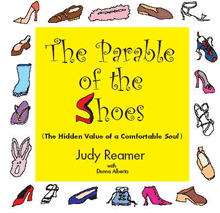 The Parable of the Shoes
By Judy Reamer
$12.00/book (plus $3.75 s/h)
"Honey, you have not stepped out in fun until you've slipped into this insightful book. I laughed and pondered and agreed with the wit, wisdom, and the wonder of it all. Why it made me want to kick up my heels!" - Patsy Clairmont
"Dealing sensitively with people is no small matter. Here's a splendid little book about drawing people to a splendid big God." - Glenna Salsbury
---
---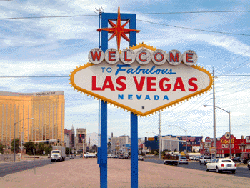 God Wins in Las Vegas
By Judy Reamer
$6.00/CD (plus $2.75 s/h)
In this presentation, Judy delights in relating how God became the desire of her heart through a world-wide entertainer, her Hollywood teen-age idol.
---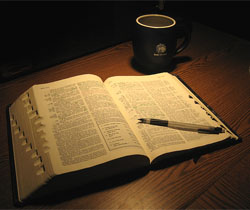 Breaking the Bible Barrier
By Judy Reamer
$12.00/Set of 3 CDs (plus $3.75 s/h)
Want to learn a practical way to read through the Bible?
Learn what to do time-wise, Bible-wise, and you-wise.
In this, one of her most influential presentations, Judy shares how a man who had read the Bible 12,000 times radically changed her former Bible reading experience. Ninety-eight percent of believers have never read through the Bible one time. Ninety percent of ministers haven't either...and Judy was one of them. Thousands of people have become readers of the Scriptures through this presentation.
You will:
Be able to see the whole counsel of God.
Be released from fears connected to the Book's volume.
Discover the major benefits of this reading plan.
Find yourself encouraged by the simplicity and the ease with which you can work this unique message into your life.
Supplemental Material
Download the following supplemental material after hearing the series:
---
An Honest Look at Marital Sex
By Judy Reamer
$20.00/Set of 6 CDs (plus $3.75 s/h)
A presentation openly discussing a fragile area of life with the liberating truth of God's Word.
This seminar certainly addresses problem areas, but it is far more than that. It is also a time of encouragement and an opportunity for enhancing a marriage relationship. Judy calls it a booster shot for the marriage bed!
The unique combination of Judy Reamer and Rebekah Royal differing personalities, spiritual backgrounds, age difference, marriage relationships and premarital histories makes for a wide range of information, experience and powerful testimonies.
Not afraid to confront and speak to the difficult areas of the marriage bed, each issue is faced frankly with freeing biblical truth. You will immediately notice an empathy with the listeners. Along with the excellent information, good humor and heart-stirring testimony, you may find the answers for which you have searched.
---
For any additional help or inquiries please contact Laine Riley at
mrsrilo@comcast.net
Or, to order by mail:
Please send a list of the items you wish to purchase along with a check for the total amount (including postage) to:
Judy Reamer
1000 Fanfare Way #4210
Alpharetta, GA 30009
Postage/Handling for books:
Add $5.75 for postage and handling for one book. For each additional book add $2.50 for postage and handling.
Canadian Orders- All payments to be made with U.S. funds. Use a U.S. (Postal) Money Order or a check from a U.S. bank.
---